Your first day and night you will stay in a nice, cosy and warm timber lodge that Kenneth has timbered up, it has electricity, water, shower and internet connection. The house is warmed up with wood. Out on tour we sleep in warm and cozy lodges. All mountain lodges are comfortable, nice and warm with beds and wood stove. All the lodges have an outdoor toilet. On tour we sleep in group rooms, 2-8 in each room. The day we go to Ammarnäs we sleep in a nice guesthouse with sauna, shower and all comfort a guest house have. On the longer tours, 10 – 18 days we have the possibility to shower and sauna on different overnights along the route.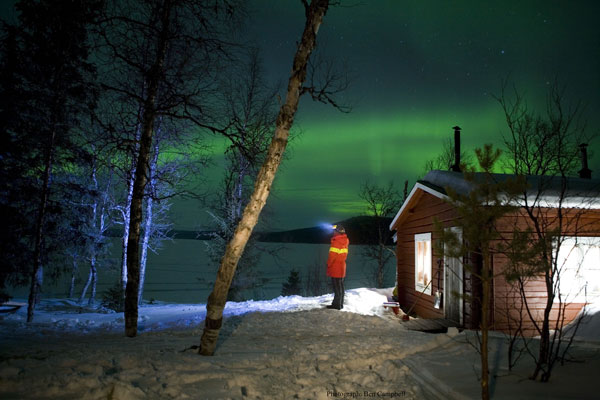 The meals are homemade by Catrine. We use local products, all the meat, fish, berries and chanterelle is coming from our forest, lakes and mountains and are hunted, fished and collected by us.
Catrine and Kenneth won a big Chief competition Winners of the Wilderness Chef Competition 2007. We hope that you will enjoy the food.
 
Breakfast and dinner are prepared in lodges whilst lunch normally are held outdoors, and the fact that we are using dogsleds means that we can take a little extra with us to make our trip even more comfortable. 
Breakfast
On tour: Blueberry soup, bread, butter, jams, cheese, sausages, porridge, juices, milk, coffee and tea.
Additional in village: herring, assorted cereals, ham, eggs, and others upon request.
Lunch
On tour: On our tours in December and beginning of January when we have daytrips from our village we have warm lunch that me make over open fire, on our mountain tours we have sandwich and drink something warm when we stop for lunch.
Additional in village: Souvas, omelets, game stew, soups, pie etc.

Dinner
On Tour: Meat soup with bread, game stew with rice and vegetables, marinated moose meat with rice and vegetables, pasta with vegetables and sauces, pasta with grind meat and sauces, fish and other local game specialties.
Additional in village: Game steaks, fish such as trout, char, salmon, etc.
Drinks
On Tour and in village: Fruit syrups, tea & coffee, juices, red and white wine, beer, fresh mountain water.